DAS GOLDENE BUCH :
Feminist Collective Zine Launch Party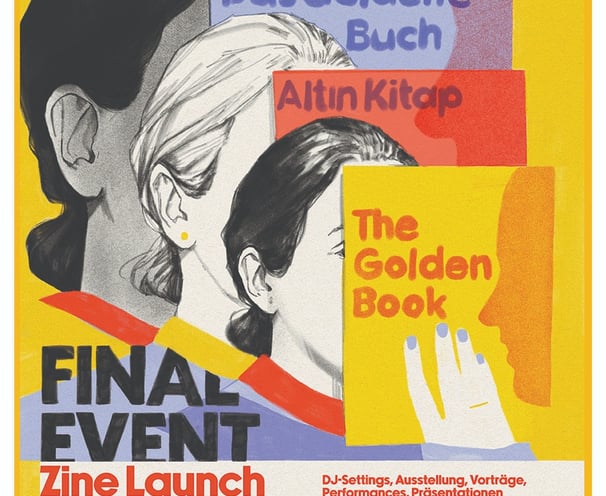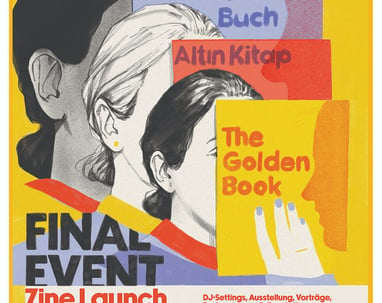 Performances, Presentations, exhibition, DJ set
*Childcare/Kinderbetreuung
9th September 2023, 17:00
Brunnenpassage, Brunnengasse 71 / Yppenplatz
"The Golden Book" is the result of the essentially fragmented identities of women* who appear as a whole in official records such as "worker, friend, lover, active politician, artist, housewife, mother", etc. With great effort, we have to keep these subdivisions separate, but when this fails, something new emerges from the chaos of formlessness: The Golden Book!
To explore this fragmentation, the participants developed an idea for a photocopy magazine in each workshop. The final zine, 'The Golden Book' is formed by the collective efforts of many women, addressing professional, personal, and social aspects of identity. The project culminates in a celebratory final event with art, performances, and discussions, showcasing the documented workshop journey and the final zine publication.
The Golden Book is a cultural project funded by SHIFT, Basis Kultur Wien and organized by Fabrikraum Kultur und Kunstverein.
Program :
17:00 Opening of the exhibition
17:30 -18:15 talks
Moderator: Iva Marković
Welcome speech:
Deniz Güvensoy, Project director
Sezer Dilan Zirhli, Workshop Director & Artistic Concept Creator
Sarah Wilhelmy, Partnership Coordinator
Guest speaker:
Jelena Micić, Artist, Wienwoche Festival artistic director
Performance Program: 18:15 - 21:30
Anna Watzinger, (+support/assistance) "Rainbow Fashion" - liquid (female*) identities: "Which color/code matches my role/position/situation or mood (of today)?" media/artist: Interactive work in progress dying textile workshop & related performative installation, 18:15-21:30
Berenice Pahl "Out of the Oikos: Betty Stops Cooking", 18:30- 18:50
Marina Leo Shamov "When somewhere there becomes somewhere here", Musical Rap Performance" 19:00-19:30
Zeynab Kirikou Gueye "Homecoming" 19:45-20.15
Leo Lisa Begeré "Futter für die Mutter* 20:30-21:15
DJ Setting :
Belén Monó, 21:30-22:30
Last workshop!
Zine-Workshop zu Wörter-Collagen / Zine Workshop with Word-Collages:
19-20 August 2023 13:30-17:30 / Fabrikraum Kunstverein
EN
Inspired by the Herta Müller technique of "collage-poetic" writing, in this workshop we will elevate word collages and writing with images into true poetic works of art - a combination of scissors and paper with profound meaning.
We encounter words everywhere, and each one of them is capable of telling a whole story. In this workshop we will cut out letters and words from newspapers, magazines and advertising brochures together. With our individual life plans, experiences and a feminist sense of design, we will set these fragments into new texts and compose captivating collages.
DE
Inspiriert von der Herta Müller Technik der "collage-poetischen" Schreibweise, werden wir in diesem Workshop Wörter-Collagen und Schreiben mit Imagines zu wahren poetischen Kunstwerken erheben - eine Verbindung von Schere und Papier mit tiefgründiger Bedeutung.
Überall begegnen uns Wörter, und jedes einzelne von ihnen vermag eine ganze Geschichte zu erzählen. In diesem Workshop werden wir gemeinsam Buchstaben und Wörter aus Zeitungen, Zeitschriften und Werbeprospekten ausschneiden. Mit unseren individuellen Lebensentwürfen, Erfahrungen und einem feministischen Gestaltungssinn setzen wir diese Fragmente zu neuen Texten und komponieren fesselnde Collagen.